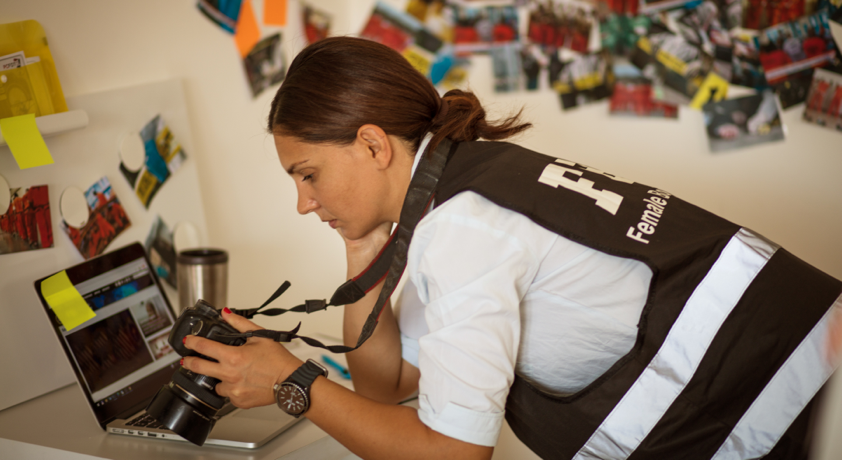 FBI Agent
One of the most sought-after jobs in law enforcement is that of an FBI agent. These extremely talented and dedicated professionals are responsible for investigating federal crimes, defending the American public from acts of terrorism, and safeguarding the United States from foreign intelligence threats.
What Is an FBI Agent?
The Federal Bureau of Investigation is the principal federal investigative agency in the United States, with a mission to protect the American people and uphold the Constitution. An FBI agent is a professional who works for the FBI, typically in an investigative capacity. Through their work, FBI agents help protect national security, investigate terrorist threats and financial fraud, and work to prevent some of the nation's most serious crimes.
Agents investigate cases that involve financial and organized crime, fugitive threats, air piracy, foreign counterintelligence, white-collar crime, bribery, kidnapping, terrorism, drug trafficking, extortion, bank robberies, civil rights violations, and other violations of federal law. FBI agents also provide support to other federal, state, and local law enforcement agencies, as well as other intelligence agencies, to gather and share information and coordinate efforts to protect the public.
What Does an FBI Agent Do?
FBI agents carry out investigations, gather evidence, and arrest individuals suspected of federal law violations. They take part in surveillance operations, provide reports and affidavits, review financial records, examine intelligence data, testify as experts in court proceedings, and give security-related advice to government officials. Additionally, they investigate potential risks to national security or acts of international terrorism, and may also collaborate with other government organizations, such as the Department of Homeland Security.
Every day, an FBI agent might:
Examine and respond to case reports and updates
Engage with witnesses and suspects during interviews
Consider case evidence and develop theories about it
Write reports and presented them to superiors and other law enforcement personnel
Liaise with other law enforcement organizations and take part in cooperative investigations
Participate in surveillance and stakeout operations
Research and acquire data from various sources, including online databases, to support investigations
Attend meetings and training sessions to stay up to date on new advances in the field
FBI Agent Requirements
The FBI is a prestigious and highly respected law enforcement agency that attracts talented and dedicated individuals from all backgrounds. FBI agents are expected to uphold the highest standards of integrity and professionalism at all times, and there are strict guidelines that you must adhere to prior to application consideration. The FBI hires fewer than one out of every five of its applicants, so competition to become an agent is intense.
To be eligible for employment, you must meet the following minimum requirements:
U.S. citizenship: All FBI agents must be U.S. citizens.
Age: Candidates must be at least 23 years old but younger than 37 at the time of appointment. This age requirement may be waived for certain veterans who have served in the military.
Education: Candidates must have a four-year degree from an accredited college or university. The degree can be in any field, but some popular choices for FBI agents include criminal justice, forensic science, homeland security, and computer science.
Experience: While not required, having relevant work or military experience can be beneficial for candidates seeking to become FBI agents. Experience in law enforcement, intelligence gathering, or other related fields can be particularly helpful.
Physical fitness: FBI agents must be in good physical condition and able to pass a physical fitness test. The test includes a series of exercises, such as sit-ups, push-ups, and a 1.5-mile run, that are designed to measure endurance, strength, and agility.
Public record in good standing with no felony convictions: All FBI agents must have a clean criminal record. The FBI looks for candidates who have demonstrated a commitment to following the law and upholding the highest standards of integrity in their professional and personal lives.
Student loan repayments must be in good standing: Candidates for FBI agent positions who have student loan debt must have an acceptable payment history.
Current on court-ordered child support payments: All FBI agent candidates must be current with their court-ordered child support payments. Any delinquencies must be addressed and resolved prior to appointment.
No engagement with organizations designed to overthrow the U.S. government: Candidates for FBI agent positions must not have any involvement with organizations or activities dedicated to overthrowing the U.S. government by force or violence.
Disqualifying Factors
The FBI takes a holistic approach to evaluate candidates and considers a wide range of factors when making hiring decisions. The FBI is also highly selective in its hiring process, and even applicants who meet all of the minimum requirements may be disqualified due to other factors. Some of the most common disqualifiers include:
Criminal history: An applicant may be excluded from further consideration if they have a criminal past that includes arrests, outstanding warrants, felony convictions, or serious misdemeanors like DUI or domestic abuse.
Drug use: The FBI has a zero-tolerance policy for drug use, and candidates who have used illegal drugs in the past may be disqualified. The FBI may also disqualify candidates who have used prescription drugs in a manner that is not consistent with their intended use.
Financial background: A person may not be eligible to work as an FBI agent if they have a history of financial issues, such as bankruptcy, loan defaults, or unpaid obligations. The FBI seeks applicants who have shown sound judgment and responsibility in their financial dealings.
Gang affiliations: Gang involvement, even if it occurred in the distant past, will disqualify an individual from consideration. Gang membership is incompatible with the FBI's mission and values.
Poor work history: A history of poor job performance, excessive absenteeism, or frequent job changes may disqualify an individual from being hired as an FBI agent. The FBI looks for candidates who have demonstrated a commitment to excellence and reliability in their prior employment.
False information on the application: Providing false or misleading information on any part of the application process can be grounds for immediate dismissal. All candidates must pass a rigorous background investigation and take a series of tests prior to being hired
Medical history: Certain medical conditions, such as vision or hearing impairments, depending on the severity of the condition and its impact on the candidate's ability to perform the duties of an FBI agent, can prevent an individual from becoming an FBI agent.
Psychological history: Certain psychological conditions, such as severe anxiety or depression, can disqualify an individual from consideration. The FBI looks for candidates who have demonstrated good mental health and the ability to handle high-stress situations.